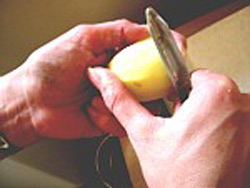 The Best Services for Making Dinnertime a Piece of Cake
For time starved, exhausted moms, thinking about le dîner is not a romantic undertaking. After all, a candlelit, wine-soaked leisurely dinner at home is out of the question these days. Who's got the luxury of thinking about gourmet grocery shopping and meal prep when the house is crazy messy and the kids are acting like little devils?
Have no fear—in our entrepreneurial city, there are plenty of options to help make dinnertime breezier. Some companies provide places where you assemble numerous dinners in advance (and freeze them until you need them). Other businesses simply drop off healthy, pre-made meals. Still others boast chefs that will grocery shop and cook for you. Basically, there's something for everyone, no matter how hands-on or hands-off you want to be.
Other foodie services to try:
Sprouts Baby Food
www.sproutsbabyfood.com
Coming this summer, Sprouts' 100% hand-made, unprocessed baby food can be delivered to your home. Check out the long list of nutrition attributes on the web site, including: no salt, no sugar, no hormones, etc. $24 a week for 12 menu items (either the chef's recommendations or ala carte).
Canape
www.canapechefservices.com
Chef Jay DeLong will come to new parents' houses and make restaurant-worthy dinners (and will clean up, too). He might start with a fresh soup or salad, then serve a luscious lamb shank and, later, a maple crème brûlée.
The Savory Gourmet
www.thesavorygourmet.com
Go all out and get the personal chef services offered through this company. Chef Marcia also caters kids' parties; work with her on developing a kid-approved menu (that adults will relish, too).  Five entrees (with four servings each) typically run $350-450 and include menu planning, shopping, food prep and clean-up.
—Molly Lori