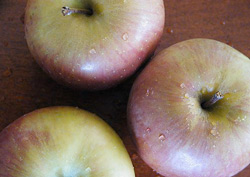 These days, time is a hot commodity. Anything that saves us hours–okay, fine, minutes–merits a top position on our speed dial list. For this reason, we love having goods delivered to us, be they milk products, groceries, organic fruit/vegetable boxes or diapers.
Not having to deal with parking and the lugging of packages keeps our stress levels down, too (as will the yoga class we now have time to attend). Add the following top delivery services to your Palm, Rolodex or BlackBerry and then take a few deep, cleansing breaths.
Milk Delivery:
Smith Brothers Milk Delivery
800.273.0587
www.smithbrothersfarms.com
RT subscriber Mo Corston-Oliver raves, "I love having the same milkman every week–it's very June Cleaver!"

Philosophy/niche: Based in Kent, Smith Brothers Farms specializes in wholesome milk that's antibiotic- and rBST (artificial growth hormone)-free. Its happy cows only eat Grade A grains and grasses purchased from local farmers.
How it works, in a nutshell: Delivery is available throughout the greater Puget Sound area. On Smith Brothers' web site, click on 'milkmen and routes' for the contact information for the milkman who would service your area. Your specified order of milk and other products is dropped off once or twice per week and can be left for you (in a cooler) if you're not home.
Minimum order/fees: Prices vary according to delivery area and milkman.
Some items offered: Milk (of course), cheddar cheese, cream cheese, butter, eggs, sour cream, half & half.
Bonus: No last minute, frenzied trips to the grocery store because you're low on 2% and the kids will throw a fit if they can't have milk with their Peanut Butter Bumpers.
Grocery Delivery:
Diaper Delivery:
A few readers shared they get disposable ones regularly on www.amazon.com. Though, if you're green-minded and willing to try environmental diapering, go for the following cloth diaper service:
Baby Diaper Service
206.634.BABY (2229)
www.seattlediaper.com
Cloth diapers have come a long way since our parents' days. The Velcro covers now available are much easier to contend with than diaper pins.

Philosphy/niche: An established company that cares about healthy kids and the environment. Mark Stief, a father of three, bought the 1946-founded company in 2003, merging it with his former business, Pure & Natural Diaper Service.
Average fees: $15.95/week for 70 newborn diapers. See website for additional pricing information.
How it works, in a nutshell: Baby Diaper Service delivers chemical-free cotton diapers to your doorstep every week and takes the dirty ones away for deep, ultra-hygienic cleaning. A special hamper coated with professional quality deodorant is also included along with a heavyweight plastic bag/liner for the hamper. You don't have to rinse or soak the diapers, just place them into the deodorized diaper container and they'll be dealt with for you.
Some items offered: Cotton diapers for children ages zero to three, as well as diaper wraps, swim diapers and pull-on pants.
Bonus: You'll save money by cutting your garbage bill in half... and you'll earn true tree hugger status.