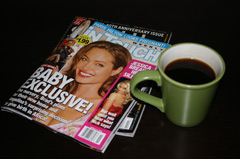 Many people think Seattle's coolest coffee houses are only for hipsters dressed in updated grunge. However, we here at RT would argue that the coolest coffee shops are those that are kid-friendly and have happy little tykes playing in them.
Give us little children giggling over cynical twentysomethings talking about their angst any day. Based on your feedback and our footwork, here are the very best cafes/coffee shops for those with kids in tow:
My CoffeeHouse
2818 E Madison St., in Madison Valley
206.568.7509
7:00 am – 6:00 pm daily
Parking: No
Changing table: Yes;
Free Wi-Fi: Not available
This gem was the hands-down favorite among our readers. Adults come from all over for the coffee shop's NY bagels (from H&H, guaranteed fresh on Saturdays), and well-made lattes and bring their kids for playtime in the enormous activity area. Here, Junior will find books, trains, mini kitchen appliances (along with faux vegetables and a "microwave"), Legos, plastic dinosaurs and more. Parents can socialize or flip through current titles on the magazine rack. No outside food allowed.
Bonus: Plum Children's Shoes, Santosha Yoga and Izilla Toys are all within walking distance.
Vios Café and Marketplace
903 19th Ave. E, on Capitol Hill
206.329.3236
11:00 am to 9:00 pm Tues.-Sat.
Parking: No;
Changing table: Yes;
Free Wi-Fi: Not available
Not a true coffee shop (though it serves fab coffee), Vios is ideal when you have the urge to escape the house for a casual lunch or dinner. At the counter, order a Mediterranean entrée or a tasty sandwich for yourself–we like the meatball and tomato one–and get Little One some mac and cheese and then head to the back of this café, where a square, enclosed play area awaits. It's decorated with darling black and white photos of calm children. Kids divide their time between the kitchen pieces (a wooden stove and refrigerator), stuffed animals, drawing boards and books.
Bonus: The Arboretum and Volunteer Park are nearby.
Child's Play Café (UPDATE 6/2/07: Child's Play Cafe has closed - we're so bummed!)
10235 Main St., in Old Bellevue
425.453.6151

Firehouse Coffee
2622 NW Market St.in Ballard
206.784.2911
www.inballard.com/Webroot/firehouse.shtml
6:00 am to 7:00 pm Mon.- Fri.; 7:00 am to 7:00 pm Sat. and Sun.
Parking: Yes;
Changing table: Yes;
Free Wi-Fi: Yes
This modern, cool coffee shop has a separate room, dubbed the Little Chief's Kids Cafe (to the right when you walk in the main entrance), with a sound-blocking door, where parents can sit at "big people" tables and watch as kids interact with blocks, books and toys. There's a rocking chair for those breastfeeding, too. The limited menu of sandwiches for adults and kids includes goodies such as grilled cheese, PB&J and the Caprese, with tomatoes, cheese and a yummy pesto sauce.
Bonus: Next door to Gymboree. Also, Me 'n Moms, a great consignment shop with furniture and kids' clothing, is just down the street, to the west.
Honorable Mentions:
Many of these kid-friendly coffee shops have toys, books or freebies for kids' amusement:
Tangletown:
Mighty-O Donuts (kids love the sprinkled donuts), 2110 N 55th St., 206.547.0335; www.mightyo.com
Capitol Hill:
Espresso Vivace (unbeatable espresso drinks and hot chocolates), 901 E Denny Way, 206.860.5869; www.espressovivace.com
Mount Baker:
Sweet & Savory (delish handcrafted pastries) 1418 31st Ave. S, 206.325.2900
Redmond:
Pomegranate Bistro (full organic espresso bar and grab-n-go sandwiches), 18005 NE 68th St., 425.556.5972; www.lisaduparcatering.com
Ballard:
Sip & Ship (in a space with Ballard Mail & Dispatch and a cute gift boutique), 1752 NW Market St., 206.789.4488; www.sipandship.com
Maple Leaf:
Cloud City Coffee (animal crackers and raisins on the menu for kids) 8801 Roosevelt Way NE, 206.527.5552; www.cloudcitycoffee.com
Eastlake:
Grand Central Bakery (mmm–the new Meat & Potato sandwich; also, spacious aisles for strollers), Eastlake, 1616 Eastlake Ave., 206.957.9505; www.grandcentralbakery.com