Jacqui Boland, Big Wheel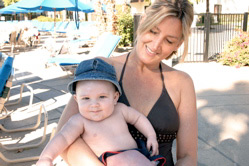 Having worked for prestigious magazines in both New York and San Francisco, this Seattle-based native New Yorker now says she would gladly trade bagels for fresh Dungeness crab any day. Jacqui was most recently the national sales director for Where magazine and before that she helped launch a slew of magazines including Breathe, Luxury Homes for Reed Elsevier and Marin at Home for San Francisco magazine. She also worked in advertising sales for San Francisco magazine and Yoga Journal after starting her magazine career at Meredith Corporation. Her son, James Hudson, was the inspiration for Red Tricycle.
Liz Gallagher, Managing Editor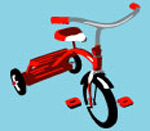 Liz has been a writer since she was a kid, so writing for and about kids is a natural fit. After studying at the University of Denver Publishing Institute, she worked on the editorial team of Highlights for Children, where her fiction has also been published. She earned a Masters of Fine Arts in Writing for Children and Young Adults at Vermont College and is under a two-book contract with Wendy Lamb Books, a division of Random House. Her first novel, The Opposite of Invisible, will be published in the spring of 2008. When she's not writing, Liz works with preschool-aged kids and loves to find activities to amaze them - and their parents!
Laura Rodde, Chief Pitch Mamma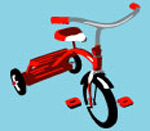 A native Minnesotan, Laura's travels took her to San Francisco, Philadelphia, and France, before she settled in Seattle.Laura met Jacqui while running trails in Marin County, CA, before either knew a running stroller from a bassinet. Now fully steeped in finding a restaurant with the best crayons, the quickest way to make an "owie" go away in a crowded store and how to turn a rainy day into a great Seattle adventure, Laura has a passion for sharing her discoveries with other parents. Laura has spent her career helping companies focus on the needs of their clients, from Malt-O-Meal Cereal company, to Sony Playstation, The Industry Standard (internet news magazine) and most recently Horizon Air. Running after her two kids, Eleanor and Thomas, is now her primary exercise.

Angie Ballas, Eye on the Eastside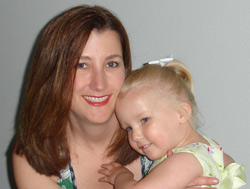 Angie is one of those rare being's we hear about sometimes..an actual Eastside native. Yep, she was born and raised in Bellevue, then traveled all the way across the big pond to the UW for college (Go Dawgs). After a four year stint in San Jose CA, where she worked in sales at the Santa Clara Convention Center and then as a wedding coordinator at the Hyatt St.Claire (unfortunately during the "Macarena" years), she returned to Washington and has since lived in Kirkland and Redmond. For six years, she worked for a Bellevue real esate agent where she was writing marketing materials, managing the website, and showing & staging homes before becoming a mom to her daughter Monica in 2005 (the best job of all). Together, they enjoy exploring all the fun programs for kids on the Eastside and she loves to tell everyone about her finds! An avid Red Tricycle reader (and tipster) since day one, she is excited to now be part of the team.

Joia Poort, Chief Product Tester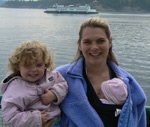 Joia has grown up all over the west coast: Alaska, Montana, California, and finally Washington. Joia teaches French, English, U.S. History, and a myriad of other classes in an eastside junior high. While attending UW (go dawgs), she spent one quarter living abroad in Poitiers, France and loves anything French (food, decor, travel, helping people plan their trips, etc). Her future goal is to open up a French preschool. She'd also love to lead tours to France (She's led 4 student trips to France). Her early jobs all involved children (nannying/babysitting). She's been married to her college sweetheart for almost 7 years and has two daughters. Her passions are travel, eating (does it sound better to say "tasting food"?), researching baby products, organizing, planning get-togethers, reading, and spending time with her family. She also is an alumni advisor for her sorority and on the Hope Heart Guild.