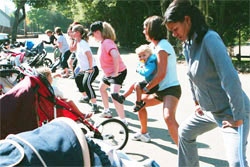 Sure, keeping up with the kids, juggling superhuman schedules and simply maintaining sanity are pulse-raising workouts in and of themselves. But now that spring (and shorts and tank top season) is in the air, we're itching to carve out some time for serious exercise. The problem?
Factor in babysitting, a gym membership and the emotional cost of donning spandex for the first time in months and we may never get our butts out the door. Luckily, with a little research and tips from RT readers, we've found a slew of local classes where babies are welcome and fellow moms add to the accepting atmosphere. Below, a few of our favorite family-friendly spring training options.
Honorable Mentions:
Kids can't join the following boot-camp style classes, but the short, high-intensity format minimizes babysitting time.
X Gym (tough, twice weekly one-on-one personal training sessions that last only 20 minutes); Belltown, Alki, Kirkland; 206.728.9496; www.xgym.com
Ms. Boot Camp at Cloud Nine Women (hard core, women-only evening workouts that whip you into shape in six weekly sessions); Queen Anne, Tacoma; 206.755.9683; www.cloudninewomen.com
–Jasmine Moir